[grve_video video_link="https://www.youtube.com/watch?v=JqdSWp6YTJs"]
by Camila Straschnoy
Last night I attended to the preview of Young Artist Initiative Complements & Dichotomies, a 3-day exhibition that will end on Saturday, February 25th 2017, and its set up at the 1111. It's organized by the Young Artist Initiative in partnership with Lincoln Road's #OnLincoln series. The #OnLincoln series aims to elevate the destination beyond world-class shopping and dining, to one that is a haven for those seeking art, culture and design.
Designed by award winning Swiss architects Herzog & de Meuron, 1111 Lincoln Road houses world-class shopping and dining as well as the most visually stimulating automotive parking imaginable. Panoramic city, ocean and bay views, soaring 34 foot ceilings, and a dramatic concrete structure serves as the backdrop for the exhibition on the garage's 7th floor.
The Young Artist Initiative has made it their mission to empower Miami's emerging artists through conceptually rooted exhibitions and installations designed to foster community engagement and cultural development. The exhibition features 20+ emerging designers' and artists' that were challenged with the concept of the exhibit: Complements & Dichotomies.
Man has addressed the dynamic between beauty and purpose in the highest forms of cultural and philosophical expression throughout the span of its civilization timeline. Socrates and Critoboulus argued in Xenophon's Symposium that an object's beauty was dependent on its ability to fulfill a function, introducing a philosophy that would manifest itself in the modernist architectural movement pioneered by masters such as Le Corbusier and Walter Gropius. However, the German architect Hermann Muthesius discarded the modernists' view in his 1913 manifesto, Das Formproblem in Ingenieurbau, proposing a theory that argued purpose and beauty were independent qualities of nature, as beauty could only be manifested through form, not function. In the context of contemporary culture, theories have arisen that summon fraternization between both values, reconciling the judgment of an object's beauty to its ability to intertwine function and aesthetic.
For this reason, the Young Artist Initiative has decided to evoke the study of duality between function and aesthetic in art, architecture, and design through its exhibition, Complements & Dichotomies. All participating artists and designers were presented with the challenge of interpreting the exhibition's central thesis: How do aesthetic and functionality converge in the creation of beauty?
The exhibition is an experiential art form through its collection of immersive artistic interpretations from a curated group of emerging artists, architects, and designers.
PERSONAL FAVORITES

LEGO COLUMN and PUZZLE COLUMN by Dante Dentoni
Sculptures (Metal and Wood Frame, Playwood, Drywall, LED), 2016.
Dantoni is an Argentinean visual artist. His work seeks to reveal the harmonic interactivity between spaces by blending art with architecture in the construction of images across a variety of different spaces.
On his artist statement he said:
"Beauty is that which, through its composition, provokes a delightful acceptance. This acceptance is based on emotional and/or intellectual interpretation, each personal to the observer.[…]"
AURDRA  by Jamey Grines
Site-Specific Installation, 2017.
Grimes lives in Tuscaloosa, Alabama, where he teaches in the Department of Art and Art History at the University of Alabama, and through Auburn University's A;Alabama Prison Arts Educational Project. Grimes has shown his work widely throughout the US.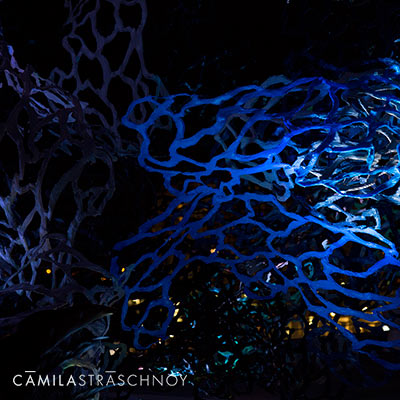 When & Where