I love makeup! I became a professional makeup artist while I was in London when I was 18 but I never really worked as one.
No matter how much makeup you wear or how good you are at applying it, I always say that there's no substitute for clear, beautiful and glowing skin. There are plenty of products that promise miracles, but it takes hard work to find out which ones really deliver. I'm really passionate about skincare products and I define myself as a sknitellectual, a term I explained in my last consumer beauty trend report. Here you will find my absolute favorite skincare products I chose after experimenting a lot—anti-aging potions, cleansers, serums, and more. Here are the items you will find on my bathroom counter! Enjoy! Xx, C.
Tatcha Pure One Step Camellia Cleansing Oil
Pure One Step Camellia Cleansing Oil contains a blend of botanical oils that thoroughly cleanse the skin without stripping it of its natural moisture—an essential first step for any skincare ritual. It is formulated with Japanese camellia oil , prized in Asia for centuries for its ultimate moisturizing and antioxidant benefits. It also contains Tatcha's Hadasei-3 Anti-Aging Complex, a proprietary antioxidant, antiaging blend of green tea, Okinawa red algae, and Japanese rice bran extracts. It easily rinses away makeup completely, leaving skin fresh and pure without double cleansing.  Another thing I love about this one is that it doesn't contain Parabens, Sulfates or Phthalates.
Available at SEPHORA, $48.
Pixi Glow Tonic with Aloe Vera & Ginseng
The Pixi Glow Tonic is a  highly concentrated, invigorating facial toner that deeply cleans pores by sweeping away excess oil and impurities. It exfoliates and purifies the skin with Glycolic Acid and the Ginseng improves circulation. It also contains Aloe Vera which helps soothing and hydrating your skin. what I love about this product is that it gently accelerates cell renewal to reveal a brighter, glowing complexion.
Available at Pixi, $29.
Shiseido Ultimune Power Infusing Concentrate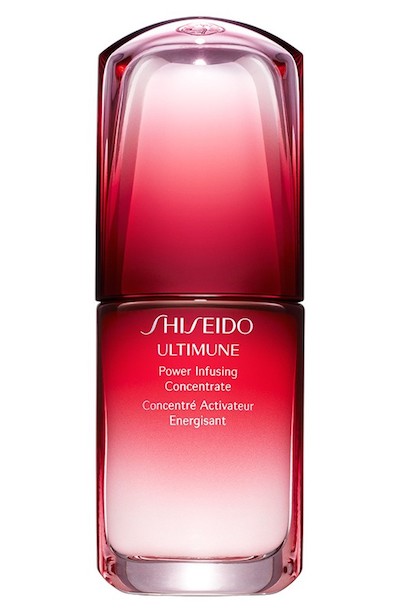 Shiseido Ultimune Power Infusing Concentrate complex contains Bulgarian rose water, aqua in pool, and yeast extract. It's designed to protect and strengthen skin against day to day damage and signs of aging, while a powerful botanical blend of gingko biloba leaf extract, shiso, and thyme maintain a healthy skin surface and protects against impurities. Skin is left visibly brighter, softer, and more hydrated with an improvement in the appearance of wrinkles.
Available at SEPHORA, $97.
Pure Body Naturals Dead Sea Mud Mask
The Dead Sea Mud Mask by Pure Body Naturals is an effective treatment for many common skin problems. Noted for its high concentration of sodium and magnesium, mud from the Dead Sea is highly effective against pimples, blackheads, and other blemishes. It draws out oils and toxins, cleans pores, and helps fade acne scars. It also reduces the appearance of fine lines and wrinkles  and minimizes pore size improving overall complexion  I love about this product that is made with natural ingredients and is safe to use on face and body.
Available at Pure Body Naturals, $14.95.
Shiseido Ibuki Protective Moisturizer Broad Spectrum SPF 18
A multi-active protecting daytime formula that supports the skin's natural defenses and boosts radiance with a soft, reflecting power. This protective moisturizer corrects the appearance of unevenness such as visible pores, breakouts, blemish marks, and skin roughness. It supports a healthy skin surface and creates an incredibly smooth, uniform texture, while providing lasting hydration and enhancing the benefits of skin care products to follow. I love to wear this moisturizer during the day time for extra protection as it has 18 SPF.
Available at SEPHORA, $48.
Neocutis Lumiere Bio-restorative Eye Cream with PS Anti-aging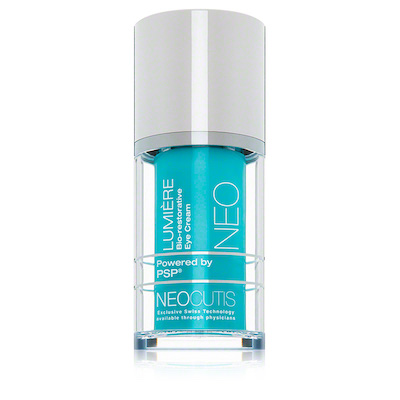 This is an intensive line smoothing eye cream that targets the delicate eye area to help hydrate and reduce the appearance of skin aging, puffiness and under eye darkness. LUMIÈRE is powered by 30% more1 PSP® to help smooth the appearance of fine lines and wrinkles. Other key ingredients include Caffeine, Hyaluronic Acid and Bisabolol. This powerful blend of energizing, moisturizing and nourishing ingredients helps provide your eyes with a younger, more refreshed look!
Peter Thomas Roth Rose Stem Cell Bio Repair Gel Mask
This repair gel mask is a cooling and soothing gel to help counteract visible signs of aging for younger-looking skin. With state-of-the-art breakthrough stem cell technology, rose stem cells are blended with rose extracts to help counteract visible signs of aging, including the appearance of fine lines and wrinkles, dehydration, dullness, and sagging. This powerful Gel Mask strengthens and tones, revealing silky soft, radiant, beautiful, and youthful-looking skin.
Origins High Potency Night-A-Mins Mineral Enriched Renewal Cream
This is a luxurious night cream fortified with potent skin resurfacers plus vitamins C and E. Put dullness to rest and wake up radiant and refreshed. Best for combination and dry skin types, moisture rich replenishers rehydrate and revive, while relaxing aromas of neroli, valerian, and vanilla help lull you to sleep. Skin gets its nighttime dose of vitamins, minerals, and hydration—revealing a younger-looking complexion by morning.
Peter Thomas Roth Water Drench Hyaluronic Cloud Cream
A concentrated 30 percent hyaluronic acid cream that transforms atmospheric vapor into fresh, pure water, providing your skin with a continuous burst of intense hydration that lasts up to 72 hours.  Three molecular sizes of hyaluronic acid—a potent hydrator that constantly attracts and retains up to 1,000 times its weight in water from moisture in the atmosphere—helps replenish skin to make it appear more supple, full, and smooth. Ceramides help lock in moisture, ProHyal+® helps improve hydration for healthier-looking skin, and antioxidant-rich elderberry helps defy the look of aging. The appearance of fine lines and wrinkles is visibly reduced, leaving a silky, hydrated, and more youthful-looking complexion